September 15, 2014 | 1 Comment | Betsy Woodman
Saturday night, I was honored and delighted to be the visiting author at Elizabeth Berg's "Writing Matters" series, held at the Hemingway Museum in Oak Park, IL. 150 people came–the museum folks had to scurry around for extra chairs!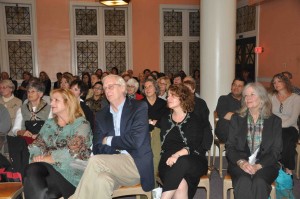 Photo credit Debby Preiser
Elizabeth (below, left) kicked off, and then Caroline Swain (center) gave a lovely statement of why reading was important to her. Caroline's mom, Rashmi, (right) comes from Mussoorie, which provided the model for my fictional town of Hamara Nagar (Our Town) in the Jana Bibi series. Talk about coincidences!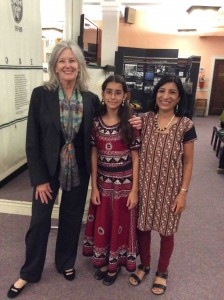 Photo credit Betsy Woodman
I read excerpts from Jana Bibi's Excellent Fortunes and Emeralds Included and then we had a Q & A. I do love surprise questions!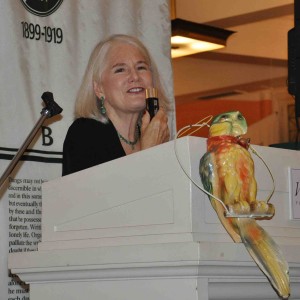 Photo credit Debby Preiser
The conversations continued during the signing.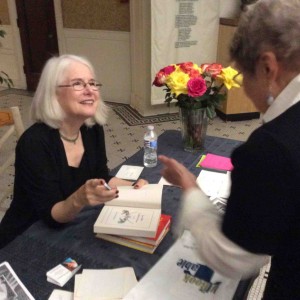 Photo credit Paul Buchbinder
A man from India came up and told me I was Indian in an earlier life–what better compliment to the books? I was really moved.
Food from Whole Foods and from volunteers set a new standard for book events. Luckily for me, someone brought me a plate before the samosas ran out.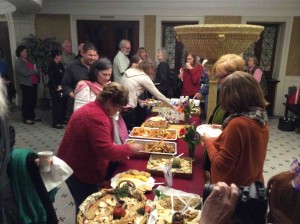 Photo credit Paul Buchbinder
Jason of the Book Table in Oak Park was selling the books and boy, were they flying right out of there!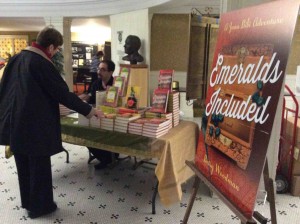 Photo credit Betsy Woodman
Actress and playwright Arlene Malinowski was a perfect Madame Claire Voyante, fortune-teller extraordinaire.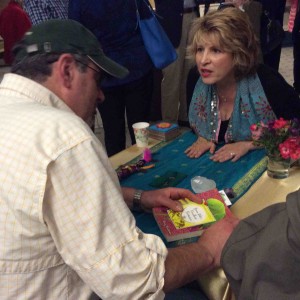 Photo credit Paul Buchbinder
Thank you, Elizabeth, thank you, Jason, thank you, Hemingway Museum, thank you, Arlene, thank you Bill Young, thank you Ina, Michele, Abbie, Caroline, Debby, Paul, and everyone else who contributed to this magical evening. My son Ben as a toddler would stand up in his crib and cry, "I love EVERYBUTTY!" That's how I feel.