September 5, 2014 | Comments Off

on Quick Draws

| Betsy Woodman
I want to take a course in draftsmanship.
While writing the Jana Bibi's Excellent Fortunes books, I made a lot of scribbly drawings, such as this early attempt to picture the Jolly Grant House–Jana's "Indo-Scottish Nostalgic" style dwelling.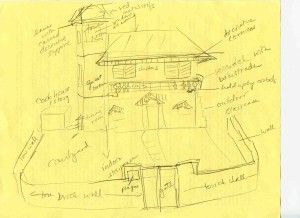 I took more pains with the ground floor and the upstairs (i.e. I got out a ruler.)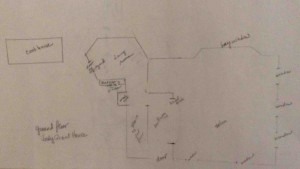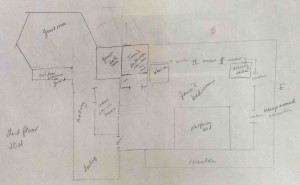 Sally Brady, a writing teacher of mine, used to explain why she needed to write: "How can I know what I think until I see what I write?" I'm now adding to that, "How can I know what I imagine until I see what I draw?"
But of course, I'm leaving something out: bringing a story to life is the joint effort of the writer and reader. Probably readers have mental images of the Jolly Grant House that are way better than anything I could sketch.
(I still want to learn to draw better, however.)
By the way–if any of you are in Milwaukee on September 12 or in the Chicago area on September 13, I'd love to see you at my events: Boswell's bookstore in Milwaukee and the Writing Matters evening in Oak Park, IL.
Also in Milwaukee on September 12: I'll make an appearance some time after 8:30 AM on the Morning Blend, the wake-up show at NBC affiliate WTMJ television. Grab a cup of coffee or tea and tune in!
« Newborns