July 10, 2012 | Comments Off

on Tough Realities

| Betsy Woodman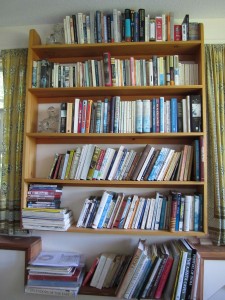 Recently, I've read three books on aspects of Indian life that most of us will never know first hand.
Katherine Boo's Behind the Beautiful Forevers: Life, Death, and Hope in a Mumbai Undercity (Random House, New York, 2012) redefined the word "gripping" for me: the narrative got me by the throat. She describes life in the Annawadi slum, in sight of the glittering high-rise hotels and international airport of Mumbai. The garbage-sorters of this settlement strive heroically for a better life, but the legal system is heavily stacked against them and they're at the mercy of the ups and downs of the global economy.
Also extraordinary is Suketu Mehta's Maximum City: Bombay Lost and Found (Alfred A Knopf, New York, 2004). Mehta is an Indian-American journalist, fiction-writer, and movie scriptwriter who was brought up in Bombay and recently went back there to live for two and a half years. The story of his personal adaptation (finding an apartment, getting his kids into good schools) is fascinating, but even more so is his stunning research into the many subcultures of Mumbai life. As he explores the police system and underworld, you wonder how he will come out alive!
Finally, Akash Kapur's India Becoming: A Portrait of Life in Modern India (Riverhead Books, Penguin, New York, 2012) is a mixed message of hope and anguish. Kapur, raised in the U.S., returns to his ancestral land in Southern India and finds economic and social transformation–but also, environmental catastrophe.
Life is changing so fast in India that individuals can be overwhelmed. All three of these books offer profiles in courage and ingenuity, as people face the future galloping down upon them.