January 11, 2015 | 1 Comment | Betsy Woodman
Somewhere in between the planning and the execution of Jana Bibi's Excellent Fortunes, I changed the name of the tea shop from the Hot Spot to the Why Not? (That question mark threw the spelling and grammar checking software into some confusion.)
I also ended up leaving out tidbits about Mr. Joshi, the proprietor.
Such as his view on planning: "Five year plan? Who can plan in life? Life unfolds according to the destiny of individuals, which has already been decided by their previous actions."
Or on world affairs, "What is the United Nations? United? Sounds like an unlikely thing."
Or, when watching some American students go by, Mr. Joshi thinks disapprovingly: "They didn't drink tea in his shop, they went to Kwality's and spent 4 annas for Coca-Cola. Four annas! Mr. Joshi had never tasted Coca-Cola, but he had often seen it in a glass, a sinister purplish-brown liquid fizzing evilly over ice cubes."
In real life, I have a soft spot for teashops and cafés—little outposts of coziness, extensions of your own kitchen or living room, rest stops on a journey.
Such as The Café End of the World, in Dharmsala: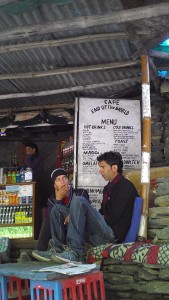 or the Tip Top Tea Shop in Mussoorie: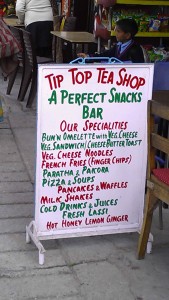 I could use some of their parathas or pakoras right now.
I also love it when life imitates art. My sister Lee was really excited to find this coffee and wine bar in New York City.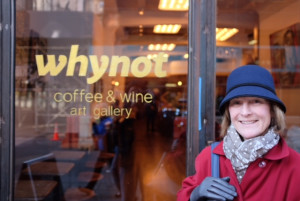 Photo credit: Lawrence Ballon
Hey, where's their question mark?