November 22, 2013 | 3 Comments | Betsy Woodman
I'm back from two weeks in India. Among other quests, in Delhi I searched for the two houses my family had lived in. I had done this on an earlier visit—in 1986—and found both houses almost exactly the same as in the 1950s and early 1960s. The streets they were located on were also little changed.
Not now! Delhi's a different city. There are roughly ten times as many people there as when I was growing up. Neighborhoods that used to feel open are now filled in, both vertically and horizontally. At the same time, the city boasts more greenery: rough maidans (open scrubby fields) have become parks full of lush plantings. Saplings have grown into huge trees.
During our last four years in Delhi, we lived at 2 Circular Rd, now 2 Pundit Uma Shankar Dikshit Marg. Andrew S. Ward, whose family were the previous occupants, wrote up his own several return visits to the house in this brilliant blog piece.
Here's what it looked like in 1959.
My sister Jane is climbing up on one of the posts flanking the front gate.
When I saw it in 1986, the house was no longer a private residence, but the rest house for the government of West Bengal. It was still the same old white ark of a place, however. The watchman told me I couldn't possibly have lived there and would I please go away. A few years later, my sister Jane had more luck: the household staff showed her around, going into every room, including the bathrooms. She was so grateful she went back the next day and took them a cake.
When my sister Lee and her husband, Larry, visited in 2010, they found a crush of tents on the front lawn and piles of construction materials; the place was being enlarged and totally renovated. When they asked if they could look around, the workmen merely shrugged, leaving them free to climb up some scaffolding.
They landed in my old bedroom, which was filled with bags and bags of cement mix.
By the time of my visit to Delhi last month, the construction was long complete. The house has an extra story, a different color…
and an annex that serves as an office building.
The property is enormous–forty guest rooms and four deluxe suites! A 2012 Telegraph article tells us that it was built for VVIPs (very, very important persons) but that the "common man" can now stay there. Scroll down here for pics.
The field where I used to ride my neighbor's horses is now a groomed park with emerald green grass: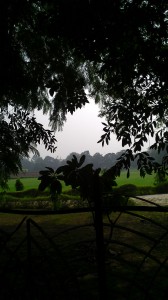 Well, my head was swimming. Images of the past were contradicted by the evidence of my eyes.
It reminds me now of the idea from theoretical physics that time is an illusion, that all moments exist simultaneously. Brian Greene, author of The Elegant Universe, compares the nature of reality to an old-fashioned flip-book.
You know how it is to meet an old friend who seems completely changed—even unrecognizable—and then suddenly a laugh or an expression will bring back the way that person looked many years ago? You feel that the younger person is there, coexisting behind the older one and occasionally emerging for a second or two. It's as if you'd turned the pages back in the flip-book.
And so I found with houses and streets. When I glimpsed some familiar detail, for a moment the pages of the flip-book were riffled. Anyone got a name for this phenomenon?