April 25, 2014 | Comments Off

on Spain and Bollywood–a Marriage Made in Heaven

| Betsy Woodman
One of my favorite Hindi movies is the 2011 blockbuster Zindagi na Milegi Dobara (Life Doesn't Come Twice.)
It's the story of three bachelors taking a road trip through Spain, just before one of them is supposed to get married. Each picks a dangerous sport and the others are honor-bound to try it out with him, and they're all pushed to their limits.
The film explodes with energy. It's also highly authentic in its details–it was shot on location (the cast and crew traveled hundreds and hundreds of kilometers) and the actors did their own action sequences. Method acting and then some! The result is a movie that has an alive, expansive feel–like a real road trip.
Particularly wonderful is the cultural mix. In the song and dance number, Señorita, flamenco and Indian movie dance moves combine seamlessly, as do the Hindi and Spanish lyrics. Maybe that's not so surprising, since flamenco has (among other sources) Indian roots. Historical influences aside, the song just makes you want to get up and dance. No wonder the extras in the crowd look like they're having so much fun!
The makers of the film had huge fun, too, according to this video (47 minutes.) If you don't have time for the full treatment, this seven-minute clip tells about making the song.
If this 1954 magazine cover featuring Lalitha of the Travancore Sisters is any clue, Indian movie audiences have seen Spanish influences before. The flounces on the skirt, the detached sleeves, the ribbon at the neck all suggest flamenco costume, and if I'm not mistaken, Lalitha is holding castanets.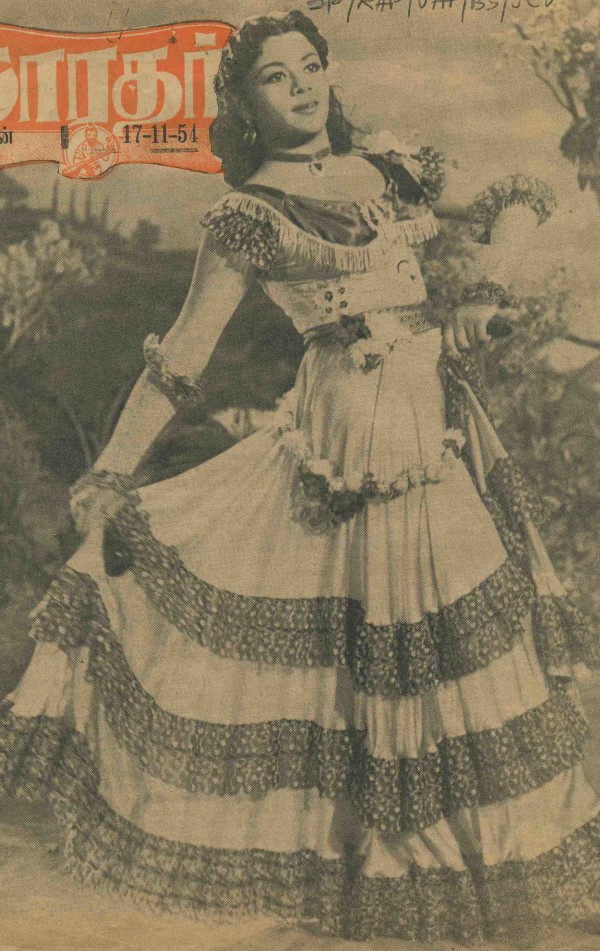 Lastly, I found this Hindi/Spanish/English mixture of the Christmas song Feliz Navidad. Badhai ho badhai—greetings, congratulations, best wishes—scans perfectly well with the tune.
Feliz everything, people. Oh, and namaste.
« Eyes on the Prize, but no High Fives