June 23, 2014 | Comments Off

on The Jeweler

| Betsy Woodman
There's a jeweler in my new book, Emeralds Included. His name is Mr. Shah. Jana's son, Jack, doesn't trust him, but Jana finds herself hypnotized by Mr. Shah's poetic and knowledgeable musings on gems.
When I was growing up in India in the 1950s and 1960s, my family got acquainted with a jeweler who was both an artist and an excellent businessman.
Mr. Nanda Lal Varma was then just starting on his career. He had no storefront; carrying his wares in a brief case, he made house calls on foot. Later, he traveled by bicycle and finally by motorcycle. With exquisite timing, he managed to arrive at our house during the cocktail hour.
Ushered into the living room, he would offer velvety salutations, settle down, and scatter some gems straight onto the rug. It was a great show, which my sisters and I crowded in to see. If my parents told us to keep back, Nanda Lal would say, "Not to worry! We are making allowances for little ones."
At Christmas, he matter-of-factly delivered gifts to us. On one occasion, on delivering a custom-made necklace and earrings for my mom, he presented me with an emerald pinkie ring, as if it were a piece of candy.
Emeralds Included. Sometimes they are!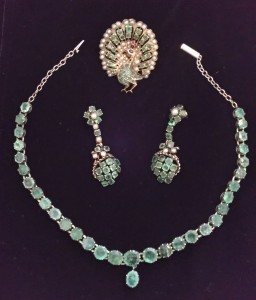 Peacock pin and emerald necklace and earrings, Northern India, mid 20th century