February 1, 2012 | 3 Comments | Betsy Woodman
You fall into the role of family archivist gradually, without quite realizing what's happening. My relatives think I love smelly old paper that makes your fingers wrinkle, and photo albums held together by decaying rubber bands. Actually, I do love that stuff—for example, my grandparents' account book from their first three years of marriage. How else would I know that they were Bull Moose Republicans and ate tripe?
Five years after my dad's death, I'm still going through his papers. Ancient bank statements, Medicare Summary Notices, photocopies of photocopies of newspaper articles, plus the originals. The temptation is to tip the whole file drawer into the recycling bin.
But if I'd done that, I would have missed…the Patch File.
P. A. Thiruvenkatachari, or Mr. Patch, as many called him, had been a schoolteacher in South India. On July 21, 1954, when he penned his first postcard to my dad, he was seventy-one years old, long retired, and a library cardholder at the United States Information Service Library in Madras, now Chennai. My dad, Everett Woodman, was a cultural affairs officer for U.S.I.S., thirty-eight years old. A few years earlier, he had received a doctorate in educational psychology.
"Dear Dr. Woodman," wrote Mr. Patch. "Our friend Mr. T.V.S. Rao tells me that you carry a very old head on your young shoulder. I wish to verify if it is so…. Do not laugh at my words…I am not suffering (from) dementia praecox. I have pieced together…my reflections and I shall bring with me a few of them. Let me explain things more comprehensively in person…. Yrs sincerely, P.A.Thiruvenkatachari."
And explain things more comprehensively, he did, over the next eighteen years, in at least fifty letters and cards. Since only six carbon copies of letters my dad wrote back are in existence, most of his replies must be inferred from Mr. Patch's comments. But the idea comes through, clear as day, of a very special friendship between the two.
It is worth mentioning what the life of a village schoolteacher was like in 1950s India. In a magazine article of the time, a teacher observed that when most people retire from a job, their troubles are practically over, but that his were just beginning. The article went on: "After 34 years of service…(he) gets a monthly salary of Rs. 40-8-0 (approximately $8 in 1956.)…He is up with the first rays of the sun and after a walk in the village fields and a cold bath on his return, spends a considerable time in prayer. Later, he coaches several pupils at home. Their parents pay him something in kind—a quantum of rice or a few coconuts…. (Later in the day) at school, he has to teach about 120 students…"
T.S. Satyan, "The Village Schoolmaster" The Illustrated Weekly of India, September 11, 1956, p. 46
More about Mr. Patch next time!
Stay well,
Betsy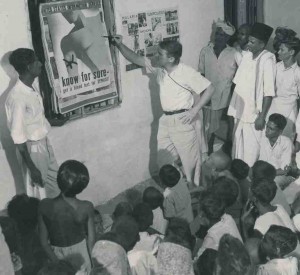 Ev Woodman at a public health event, Chennai, c. 1954