January 19, 2013 | 3 Comments | Betsy Woodman
I'm just back from New York City, where I had a great visit with my childhood friend, Deborah Keehn. Debby and I were friends in Delhi, where we took Bharatanatyam dance lessons together. Later, we were Woodstock School roommates.
Here we are on a typical Saturday morning, busily cleaning our dorm room. We had to pass room inspection before we could go to "the buzz," as we called the bazaar in Mussoorie.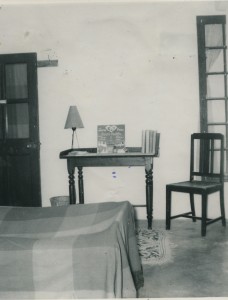 See? All cleaned up!
I had not been in touch with Debby since college, but, to my delight, found her last year on Facebook.
In New York, we took in a couple of exhibits at the Rubin Museum of Art. One was of the work of Homai Vyarawalla, India's first female photojournalist. Vyarawalla's iconic shots include this humorous one of India's first Prime Minister, Jawaharlal Nehru.
The exhibit is over, but this podcast tells about Vyarawalla's life and work.
The other exhibit was Radical Terrain: Modernist Art from India.
Debby was knowledgeable company for this outing. Her parents, Thomas and Martha Keehn, were passionate art collectors, and friends of painters who at that point were struggling but later became world renowned. Items from the Keehn collection and Martha's letters home to the States are gathered together in a book called India Ink. Irresistible reading for me! Martha was nothing if not candid, and this portrait of an American family in India in the 1950s is a classic.
And, amazing coincidence, the book also revealed that the Keehns had lived in my family's first Delhi house just before we had. I didn't know that at the time. Debby and I had more in common than we even realized.
« Ragini, the youngest Travancore Sister