October 20, 2013 | 1 Comment | Betsy Woodman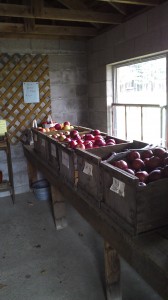 The other day, I went to Musterfield Farms in North Sutton, NH. They had their apples and vegetables for sale in a little shed that smelled delicious, just like fall. The prices were listed up on the wall.
Anyway, the system is that you help yourself to the produce and then put the money  you think you owe in a cookie can. I got some apples, filling a bag for $2.  The owner saw me and said, "You didn't take enough! Put some more in that bag!"
That's the kind of haggling I like.