November 11, 2015 | Comments Off

on A Prayer for Veteran's Day

| Betsy Woodman
It's Veteran's Day. Ninety-seven years ago, shortly after 5:00 AM, Paris time, French, British, and German delegations signed an agreement to have the shooting of the Great War stop at 11:00 AM.
On this day of the year,  I experience a sense of time warp, a feeling of being transported back to a moment in history. The savage noise of the guns is–for a little while, anyway–replaced by an enormous sacred silence.
The two world wars form a big part of my family's tradition.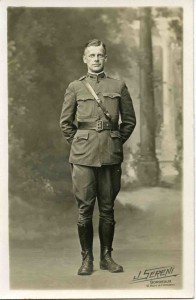 My grandfather, James B. Woodman, MD, got to France the day after the World War I armistice and spent the next seven months patching up wounded soldiers.
My grandmother sent him this picture of his two little boys, Ev (my dad, left) and Jim.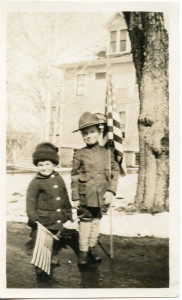 A generation later, both of them served in World War II. My dad was proud of having done so, but despaired that neither of the world wars proved to be "the war to end all wars," or the war that would "make the world safe for democracy."  Propositions such as "this time it's different," "home before Christmas," "preemptive strike,"  and the like, he would thunderingly dismiss as "the military mentality."
On July 4, 2004, at age 88, he was the guest veteran speaker on the village green in Hanover, NH. With the help of his two walking sticks, he hauled himself up to the lectern and let the crowd know what he thought of the war in Iraq.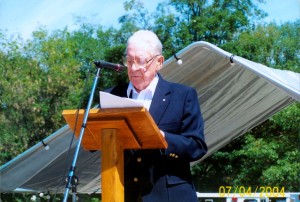 History will show, he said, that "this dreadful undertaking, from the constantly concealed civilian death toll, to American torture of prisoners, to the hastily arranged ceremony conveying 'full sovereign authority' to Iraq, how every aspect of this long charade has been slanted and sold by shameless rationalizations – semi-plausible sounding reasons for doing what should never be done, and not doing what should be."
There were cheers from some corners of the crowd, and boos from others. He plowed on and wrapped up his five-minute speech on the following note:
"Now we look ahead and our prayer is that our young people and their children will develop the courage and wisdom to find victorious living in ways other than war – that their lives in a contracting world will eliminate fear of cultural differences – the mindless prejudice that often twists patriotism into nasty nationalism that turns otherwise civil societies into warring tribes.
"Teach our children to have faith in humanity and to know the dignity of all human beings. Reaffirm America's basic belief that all people are created equal – that we all are children of the Universe. There is no nonsense about that – it is universally obvious and fundamentally American."
May you have a quiet November 11.
« What they did with every cent