July 18, 2013 | 4 Comments | Betsy Woodman
I've been cleaning out closets. In a tin biscuit box, I found a pile of tintypes (photos on metal) and other old photographs dating from about 1860 to 1880. With them was a little scribbled note: "James, Keep all pictures in desk until we can look at them together, Mary."
James would be my grandfather (who died in 1958) and Mary was his sister.
Unfortunately, almost none of those pictures had names or dates written on them. I'll bet even James and Mary couldn't identify half of them.
Let'see. These guys have to be…well, ancestors. Somebody's ancestors.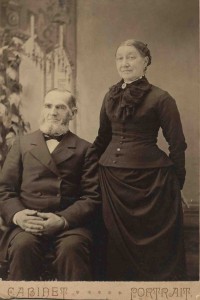 Could this cool dude be an ancestor, too?

Oh dear, tragedy must have stalked this woman.

Was this young lady wondering how much longer she'd have to sit still for the picture?

I'm pretty sure that this serious little boy is James himself.

I also found lots of tiny tintypes–some 3/4 by 1 inch–in decorative paper sleeves.
Now to see if some nice historical society would give these people a good home. Most of the portraits were taken by photographers in the region of Lebanon, NH and towns across the river in Vermont.
You can see why the closet-cleaning process goes slowly.