June 13, 2014 | Comments Off

on Emeralds and Parrots All Over the Place

| Betsy Woodman
Yesterday, I got a packet of books from Allison Adler, my new editor at Henry Holt and Company. Hooray! It was some author's copies of my new book.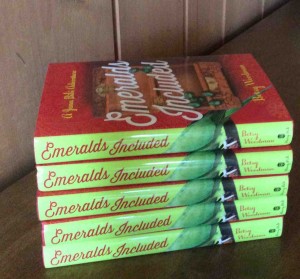 The book comes out July 8, but you can pre-order now just about anywhere.
Of course, I started playing with the books so that the parrot would show up in his entirety.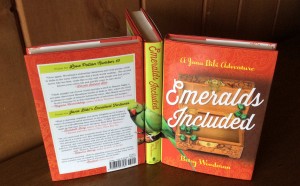 The bird is an Indian ring-necked parakeet, a popular pet the world around. It seems that Alexander the Great loved ringnecks and brought back some (including the one named for him, the Alexandrine parakeet) from his military forays through Afghanistan into India.
Some people think that because it's a "parakeet," this bird is not a "parrot." Not a bit of it! It's very much a parrot, psittacula krameri manillensis. It's typically about 40 cm/16 inches long, including tail feathers. It weighs 116 to 140 grams/4 to 5 ounces–about as much as a stick of butter.
I've never owned (or been owned by) a parrot myself, but many parrot owners have written me to say that Mr. Ganguly, the parrot in the Jana Bibi series, is just like their pets. To be sure, I took some poetic license in making Mr. Ganguly very savvy and multi-lingual, but parrot owners often describe their birds as "practically psychic," so maybe I wasn't exaggerating so much after all.
Anyway, Mr. G shows up again in book three. He's his own person, choosing an unlikely love object, learning new tricks, and embarrassing Jana by…well, I'd better not spoil anything. Also, the humans are supposed to be the stars of the book. Jana's son, Jack, comes for another visit, bringing his Hungarian fiancee, and Mary, the housekeeper, suddenly finds that she has more to occupy her mind (and affections) than running the household. Tilku, the messenger boy who wants to be a pilot, gets off to a rough start.
Meanwhile, Jana is called on to advise the customers who come into her salon, which of course has her wracking her brains.
Please join Jana and her gang again! They're waiting for you.