May 21, 2014 | Comments Off

on Emeralds are on their way

| Betsy Woodman
Jana Bibi book 3 is coming soon–July 8, to be precise. You can pre-order it now from your usual sources. Here's the summary and an excerpt to download.
I love the art department at my publisher, Henry Holt and Company, Inc.–they keep coming up with wonderful new depictions of Jana's parrot, Mr. Ganguly, for the book covers. This time, you may wonder where Mr. G is heading.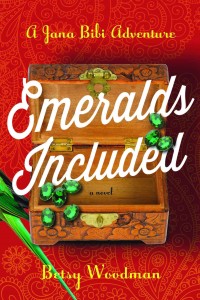 Just look at the spine of the book…

And then turn to the back. There he is, scrutinizing us all.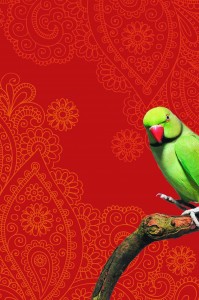 I'm looking forward to speaking at different venues this summer, some old favorites, such as Gibson's Bookstore in Concord, NH, and some new ones as well, including Toadstool Books in Keene, NH. Please take a peek at my events schedule and see if any are convenient for you to get to. I always enjoy the conversations and I hope you can come join in, too.
In the meantime, happy spring!