December 29, 2014 | 2 Comments | Betsy Woodman
My Christmas dinner centerpiece was pretty simple: a parrot figurine pulling a sled with some bonbons on it.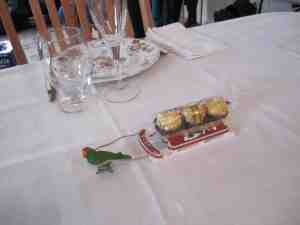 Somehow the parrot got separated from the bonbons and started wandering among the place settings.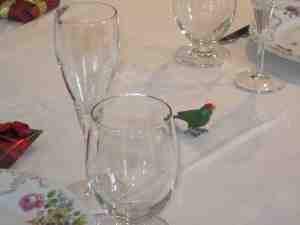 Which reminded me of Mr. Ganguly, Jana's pet parrot.
I wrote dozens of scenes that didn't make it into the Jana Bibi series. Here's one (trimmed) about Jana acting as fortune-teller in her parlor.
A Scientist comes into the Salon
The sign identifying "Jana Bibi's Excellent Fortunes" was on
the wall near the gate, touched up with fresh paint. Jana, dressed in a red peasant skirt and jacket, was at her table in the salon, and Mr. Ganguly was on his perch, alert and poised.
Who would walk through the door today? A lovesick schoolgirl? A
writer waiting to hear if his short story had been accepted by the
Illustrated Weekly of India?
The bell tinkled, and in came the first customer of the season.
Jana detected nervousness in the young man with tortoise-shell
glasses and the unruly black hair. She bid him namasté and invited him to
sit down.
"I can't tell you my name," the man said, "because I don't want it known that I am here."
"I'm sorry about that," Jana said, taken aback. "Are you on the
run from the law?"
"No, no," the young man forced himself to laugh. "I am a
scientist. For the government."
"Goodness," Jana said. "You must be fearfully brilliant."
A smile passed over the young man's face, to be replaced by a
grimace of worry.
"Not brilliant enough," he said. "And not up to the task ahead
of me!"
"Which is?"
"Convincing my superiors that a catastrophe is in the making."
"And is it?" Jana asked.
"Yes. A massive earthquake here in the Himalayas. One hundred percent probability. Tectonic plates are grinding their way toward collision. Mountain peaks are being pushed upward! Even as we sit here, the Jolly Grant House is rising."
"Surely not," Jana said, although, already, she didn't feel as
solid in her chair.
"Ah, but yes. An imperceptible amount today, but this much in a
year." He held his fingers a centimeter apart, then said, "Think of what
that means in a century!" and indicated a spread of a yard.
"What?" screeched Mr. Ganguly.
"Now you've got him worried, too," Jana said.
"He should be worried," said the young man.
"But," said Jana. "How can I be of any help to you in writing
this report?"
"I've decided," the scientist said, "that at the end of my
report, I will include the opinions of astrologers, tea leaf readers, and
other such practitioners. Those who predict the future–such as your good
self."
By now, Jana felt confused. "But surely, those opinions won't have any
credence, will they? Haven't you got to pile up the report with statistics
and graphs and words with Greek roots?"
"Ah, yes," said the young man. "I will have to talk about
confidence intervals. But I will end by going straight to the heart of
belief."
"And how is that done?"
"Refer to tradition. Appeal to emotion."
"Well, fine, let's go ahead, then," Jana said. "We'll use Mr.
Ganguly's favorite technique, which is picking a card from among the Hindu
gods and goddesses."
She took her brand new pack of cards from the sideboard,
shuffled them, dealt out ten, and spread them across the table face down,
the red and gold backs looking like little soldiers in parade uniform.
Mr. Ganguly hopped down from his perch, then marched back and
forth across the table, appearing to be in the throes of indecision.
Finally, he picked a card and, with a theatrical bow, handed it to the young
scientist.
Glancing at it quickly, the man laid it on the table face up.
"Aha! It is just as I keep saying, the big earthquake is 100% certain. And
even your parrot agrees. He has chosen Ravana—He of the Deafening Roar. The
king of Lanka, the demon who kidnapped Sita."
He turned to the parrot. "What do you think, my avian friend?
Will we soon be shook to our very foundations?"
"All shook up!" Mr. Ganguly said, sagely.
« Day trip to a different country