December 2, 2012 | Comments Off

on Mr. Ganguly's Avian Holiday Calendar for 2013

| Betsy Woodman
Mr. Ganguly celebrates all sorts of human holidays, religious and secular. He thinks primates should reciprocate and observe his bird-related holidays! In addition to New Year's Day, Easter, Holi, Divali, and so forth, he's got the following on his calendar:
January 5 National Bird Day, United States. Mr. Ganguly sends best wishes to any of his friends in the U.S. who are celebrating this day. The organization Born Free USA warns that of the estimated 9,800 bird species on earth, 12% are in danger of extinction. Of the 330 parrot species, one third are in peril.
January 13 Makar Sankranti. Hindu festival. People fly kites and celebrate the return of migratory birds. Crows will be honored. Mr. Ganguly will be worried, because birds can get caught in kite strings. Also, he does not like organized bird fights.
April 8 Draw a Bird Day. You don't have to be an artist to participate. I think Holt editor Joanna Levine is a shoo-in to win, with her picture of Mr. Ganguly reading two books at once!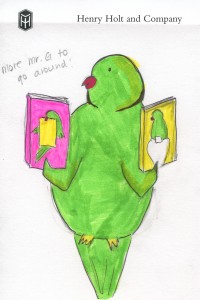 May 11 International Migratory Bird Day. Mr. Ganguly knows what's going on in the Western hemisphere. Inspired by an organization called Environment for the Americas, he celebrates the migrations of nearly 350 bird species between North America and Latin America, Mexico, and the Caribbean.
May 31 World Parrot Day. Stamp out capturing parrots in the wild and reverse destruction of our habitat, says Mr. Ganguly! He admires this video clip of Macaws and their companion humans that descended on Trafalgar Square in 2011 to publicize the plight of parrots.