June 6, 2013 | 11 Comments | Betsy Woodman
The sixtieth anniversary of the invasion of Normandy was approaching, and my eighty-eight-year-old dad, Everett Woodman, very much wanted to go to the ceremonies at the American cemetery at Colleville-sur-Mer. He'd been a young naval officer in the historic battle, serving on a Landing Craft Infantry that escorted batches of American troops to Omaha Beach.
My mom, Ruthie, then eighty-three, would have preferred to stay home; plus, she was having memory problems. My sisters and I were anxious about this trip, but there was a safety net of sorts—cousin Persis would meet my parents at Charles de Gaulle airport and take them to their hotel, a friend would put them on the train to Normandy, another would pick them up in Caen, and so forth. Near the beaches, my parents had been invited to stay with a local citizen who was eager to host an "ancien combattant."
Seeing my parents off from Boston on May 31, my sister Jane and I grew increasingly nervous. We asked at Air France if there were any empty seats on the plane. Ha! Not a chance. All right, the die was cast. Off through security they trundled, my dad hobbling on two canes and my mom clutching a worn black handbag tightly against her body.
Around noon the next day, I called their hotel in Paris. Sorry, I was told, they're not here. Next, I tried Persis. Seems that the arrival had been a bit of a disaster: Persis was half an hour late at Charles de Gaulle; the luggage was delayed; the first hotel had not worked out; they'd moved to another; and then—my mom went down to the lobby, told the clerk she was going to see what was playing at the movies, and headed in the direction of the Champs Elysées. She ended up in a Gabon Air office, and, mercifully, found her list of emergency numbers in her handbag; by that time my dad had called the police and the American embassy.
The next evening, Jane and I were on an Icelandair flight to Paris via Reykjavík. At the hotel, we found my dad white as a sheet, with bags under his eyes. He hadn't slept in two nights. In contrast, my mom looked good.
Jane and I had a busy week. How had we ever thought that the parents could manage? The train stations had long, steep staircases. The restaurants, taxis, restrooms, ATM machines never seemed to be there when you needed them.
Fortunately, my dad wore a cap proclaiming his Omaha beach history. Little boys ran up to him on the street and asked for his autograph. Everywhere, the French bent over backwards to help us. At one particularly daunting train station, a young railway employee spied us, found a wheelchair, led us into a freight elevator, and escorted us onto the train.
In Louvières, Marie-Thérèse Exmelin, seventy-four years old, ended up with four guests rather than the two she had expected, but her good humor never flagged. My mother's French held up beautifully, and our hostess dubbed her "madame toujours souriante." The always smiling lady.
Finally, Jane and I got passes to the June 6th ceremony. (I'm in the hat.)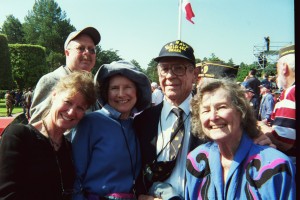 My dad had seen Saving Private Ryan, so after the speeches, he chatted with Tom Hanks about the realism of the film.

On the way back to Boston, Air France bumped my parents from coach to first class, and the pilot invited my dad into the cockpit for the landing at Logan. Dad was thrilled. Vive la France!
My dad died in 2007, and my mom in 2011. I tell this story in grateful memory of them and with love to my sister Jane. She's a great traveling companion.