October 29, 2014 | 3 Comments | Betsy Woodman
Halloween is almost here! Pumpkins are proliferating on front porches and ghosts and skeletons are swaying from trees. I can't wait to see the kids in their costumes coming to the door. I'm sure there will be lots of Annas and Elsas, the princess sisters from Walt Disney's 2013 animated blockbuster, Frozen.
Clara, however, has decided to be Winnie the Pooh.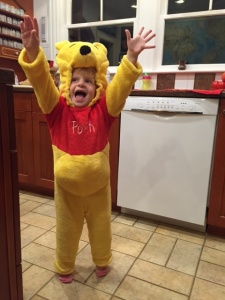 Last year, she insisted weeks in advance of Halloween that she'd be a pig.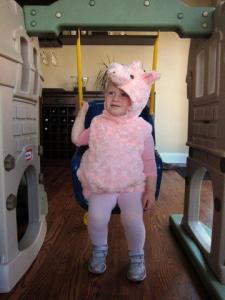 Many years ago, my son and her dad, Ben, then aged four, announced that he wanted to go trick-or-treating as "an evil clown." I recently asked if he remembered why.
"Not sure," he wrote back. "I probably just wanted to be a clown but knew the point of Halloween is to be scary. So…evil clown. Of course, evil clowns have since become a Hollywood trope. And clown fears are very common–something about the way the painted face on top of a real face doesn't move in a natural way–it's been described as tied to our fear/suspicion of the 'uncanny valley.' So maybe I was on to something."
Uncanny valley? Thanks to those years of Woodstock School Bible classes, my first thought was, "Lo, though I walk through the valley of the shadow of death…"
The term "uncanny valley" comes out not out of Psalms, however, but from aesthetic theory and robotics. In the 1970s, Japanese roboticist Masahiro Mori found that as robots become more life-like, at first people's comfort level with them goes up—but then, it takes a sudden dip, not to rise again until the resemblance to a human is truly convincing. That dip on the graph is the "uncanny valley," and recent research suggests that encountering it makes your brain work overtime. Neurons fire like crazy trying to figure out what's going on.
CNN writer and producer Elizabeth Landau writes, "The uncanny valley effect could have to do with uncertainty about whether a robotic character is truly alive or dead, and even play into our deep-seated fears of death." (Hm. Back to Psalm 23 after all?)
Come to think of it, the relation of living creatures, fabricated ones, and intermediate almost-life forms isn't a new theme in the arts. Take the story of Pinocchio (1883), the wooden doll who wanted to be a real boy. Or the ballet Coppélia, which premiered in 1870.
In Coppélia, a young village woman, Swanhilde, is distraught because her fiancé is infatuated with a life-size mechanical doll. (And you thought you had problems.) In one scene, Swanhilde, trying to win back her misguided man, pretends to be the doll coming to life. Stiff and expressionless, she jerks and staggers around the stage, bumping into other dancers.
The device is good comedy, but it's also surprisingly tension-provoking, surely giving the poor old brain neurons quite a challenge. You know you're seeing a human dancer pretending to be a puppet, but it sure looks like a mechanical doll acting like a mechanical doll!
Back to Anna and Elsa of Frozen. Those two girls with their enormous (and somewhat crossed) almond-shaped eyes make me uneasy. Too realistic or not enough? I find those cartoon eyes creepy. Five-year-olds obviously don't, however, which makes me wonder if I tumble into the uncanny valley more quickly than they do. I guess I'll have to see the film to try to figure that one out.
One thing I do know—my precious evil clown didn't provoke any anxiety in me at all. He didn't succeed at looking very evil—just incredibly cute.