June 26, 2014 | 1 Comment | Betsy Woodman
The amazing Elizabeth Berg is hosting a literary series in Oak Park, outside Chicago, IL. It's called "Writing Matters." I'm thrilled that she wants me as a visiting author. If you're going to be near there on Saturday, Sept 13, come along! In addition to book reading and signing, there will be wine and Indian food–my mouth is watering already.
By the way, if writing matters, reading has to matter too, in equal proportion. The American Academy of Pediatrics has just issued a statement that it's good for kids' development to read to them. Well, well, you don't say.
I'll bet it's good for the parents' development, too–and for the mental health of both. Just having that small person cuddle in and hang on every word, it's so wonderful. As for the kid, having one (or even two) grown-ups paying total attention to you, with the rest of the world shut out, what could be better?
Just a few family shots I rounded up for this post:
My father with Lee (left) and me: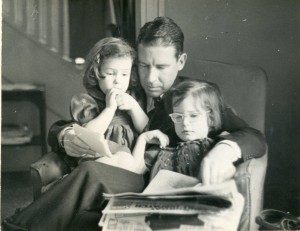 Twenty-five years later–my dad again, this time with my son, Ben: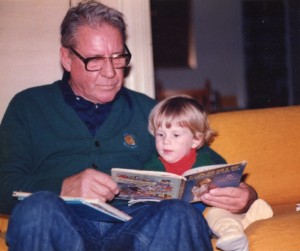 Now another generation has gone by. (Makes your head spin, doesn't it?) Ben and his daughter, Clara: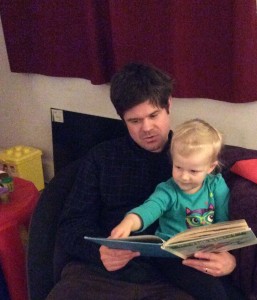 Oh, oh. I think the Grinch just stole Christmas.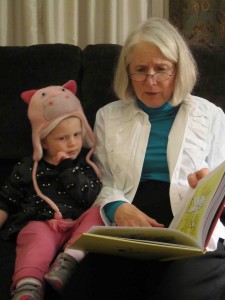 Sometimes two readers are better than one.