May 10, 2014 | Comments Off

on Totally Awesome Mom

| Betsy Woodman
My mother, Ruth Woodman, was petite, charming, and sparklingly beautiful.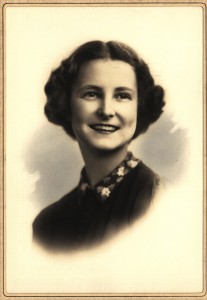 She could also be scary, especially if you were facing her across a ping pong table or a tennis court. In addition to being a dancer, she was an excellent athlete and a formidable competitor.
Here she is at age 30, at home on skis. Are the men keeping up with her? Doubt it.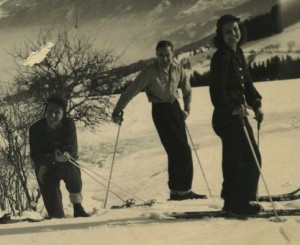 In India, in the 1950s, my parents joined the Delhi Golf Club.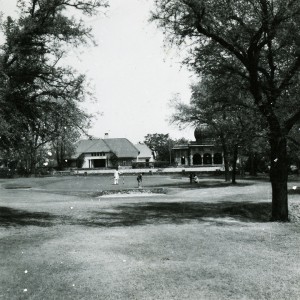 Picture Credit: Colby-Sawyer College Archives
The club soon made my mom "Ladies' Captain." Here she is getting out of a sand trap.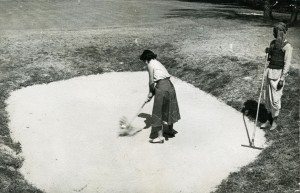 Picture Credit: Colby-Sawyer College Archives
In later life, she played tennis with folks half her age, and younger.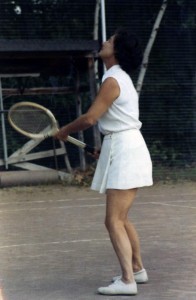 She was great friends with my son, Ben. They called each other T.A.G.–"Totally Awesome Grandmother" and "Totally Awesome Grandson."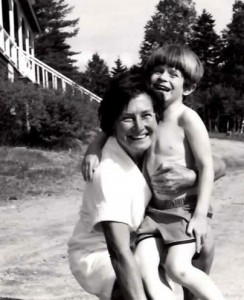 The two of them would take on me and Ben's dad in "friendly family doubles." Friendly, oh sure.  "Come on," they'd tell each other, "Let's beat those cocky baby boomers!"
In her 80s, she no longer did sports. However, whenever she played any kind of game, she summoned up almost comical determination and focus. One afternoon I went in to her assisted living facility to visit, but made the mistake of arriving at bingo hour. Through the window to the recreation room, I saw her bent over her card, concentrating fiercely. I tiptoed away.
She also continued to love Scrabble. See that little smile? The poor old guy in the picture has no idea what he's in for.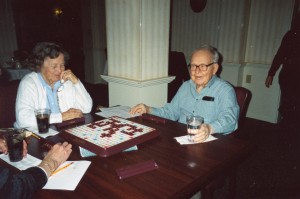 My mother is no longer with us, but I like to picture her whomping the angels in badminton, or whatever it is they play up there.
Photo credits Woodman Family Collection unless otherwise noted.