March 26, 2015 | 2 Comments | Betsy Woodman
We spent a lot of time on our attire at Woodstock School. Here are the tenth grade girls dressed for a Sunday morning church service, 1961.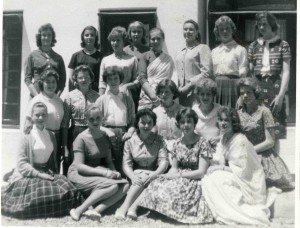 My friend Sara is very elegant in a graceful dress and pearls.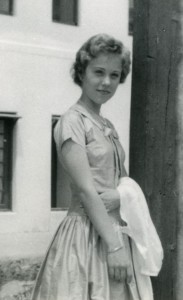 Long before "Dress for Success," Carol and Sally Beth look as if they could be running a major business.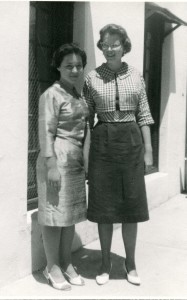 Some people owned more clothes than others, of course, but we all had a huge wardrobe to choose from–because we borrowed incessantly from each other. None of this "neither a borrower nor a lender be" stuff for us!
The morning scramble would start just after the rising bell had rung. Someone would poke her head in your room and ask, "May I wear your red sweater today?" Or brown leather belt, or black cotton skirt. Or even a crinoline or two, to keep a skirt sticking out as fashion dictated.
A friend's skirt might have been too long for you, but never mind, you rolled up the waistband and stuck a (borrowed) cinch belt over it.
Sometimes the item in question would already be out on loan, and then the would-be borrower would try to reserve it for the next day, or the next.
One particularly popular item was my roommate Karen's mint-green plush sweater. It made the rounds of our dormitory floor, so it's a wonder that Karen herself (on the left) is wearing it in this picture.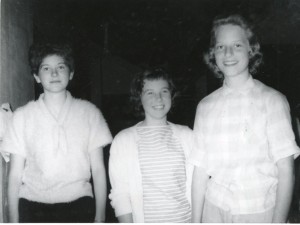 The thing is, I don't remember washing that sweater after borrowing it. Doing hand wash meant trying to dissolve some Lux flakes in freezing cold water in a basin and then swishing the item around until your hands were numb. Then you had to hang the thing on a line, and it took a long time to dry, particularly in the monsoons. That plushy stuff would have taken especially long.
But even if you didn't wash it, the next person in line was so glad to get it that it didn't matter. That's the way we lived, close as puppies in the same litter.
Photos Woodman family collection
« The cure for everything, 1895 style