November 19, 2017 | Comments Off

on Essex Farm Dressing Station

| Betsy Woodman
One of the stops on our recent tour of World War I battlefields was the "Advanced Dressing Station" at Essex Farm, near Ypres, Belgium. It was here that Canadian military doctor Lieutenant-Colonel John MacCrae wrote the iconic poem "In Flanders Fields." I mentioned this visit to a friend the other day and she instantly started reciting, "In Flanders Fields the poppies blow, between the crosses, row on row…"  The Great War still has its stamp on us.
Since I'm being foolish enough to attempt a novel set during this time and foolish enough to send one of the characters from New Hampshire to France to fight, I felt I had better see the terrain.
At the Essex Farm dressing station, wounded soldiers were carried in and triage took place. Today it looks like this: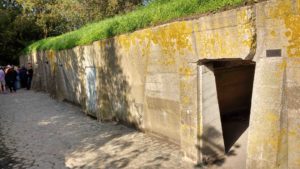 Narrow doors lead to small, dark rooms dug into the hill.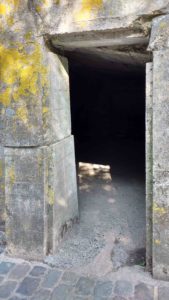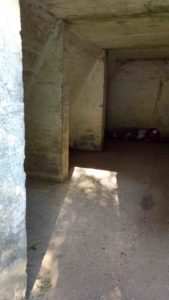 You have to work hard to imagine what took place at Essex Farm. Today, these bunkers resemble a row of storerooms–empty, quiet, and clean. In contrast, photographs of a hundred years ago (of other dressing stations) show chaos. Men with blood-soaked bandages sit staring with stunned faces.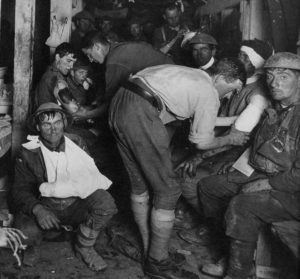 Harassed medical teams operate under unimaginable conditions.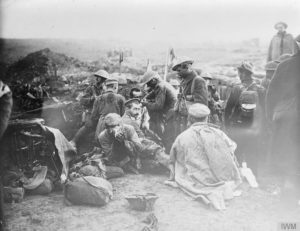 Visiting Essex Farm, you do appreciate the small, claustrophobic space in which the medical treatment took place. You don't hear the moans of the wounded, the shouted orders, the explosions going on near by. That's up to your imagination.
Color photos Betsy Woodman; black and white photos from Wikimedia Commons.
« Clinging to sanity at Verdun