September 10, 2014 | Comments Off

on Green for Calm

| Betsy Woodman
"What a curious human quirk," say gemologists Fred and Charlotte Ward, "to credit tiny jewels born deep in the earth with supernatural powers." Especially when it comes to emeralds.
Perhaps, say the Wards, we are bewitched by emeralds because green is the "most restful color on the visual spectrum, the hue most available to the human eye."
In theaters and tv and radio studios, there's often a "green room" where performers calm their nerves before making an appearance.
This summer, I got to sit in the green room at the New Hampshire Public Radio headquarters in Concord, and it really was soothing, although to tell you the truth, I can't remember if the furnishings were green! Anyway, the conversation that day with Virginia Prescott of Word of Mouth was fun.
Come to thing of it, I had a lot of fun this summer. At the Friends of Woodstock School reunion in Baltimore in July, I got to see a lot of old pals, chat about our days in India, and also sign a few books.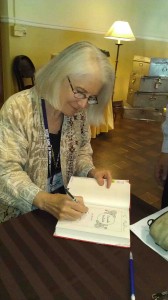 Back home in New Hampshire, I enjoyed an evening of reading and signing at Gibson's Bookstore–they've been in business since 1898, but now are in fabulous new digs.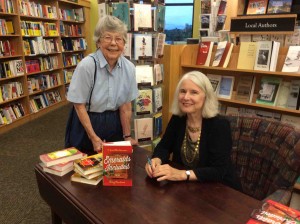 Small world department–Peg Aldrich, the woman standing in the picture (and a New Hampshire resident) is a cousin of Woodstock School friend Carol Aldrich. Really, all the world's connected.
More adventures are coming up. If you're going to be in Milwaukee on Friday, September 12, please check out the WMTJ-TV show "The Morning Blend" at 9:00 AM. I'm looking forward to talking to hosts Molly Fay and Tiffany Ogle. (Wonder if they have a green room.) Then it's on to Boswell Book Company at 2:00 PM for a reading and signing of Emeralds Included. Come along!
The following night, I'm speaking at Writing Matters, Elizabeth Berg's wonderful series in Oak Park, IL. Indian food, fortune-telling, and more. Join us!