July 22, 2014 | Comments Off

on Newborns

| Betsy Woodman
My new book, Emeralds Included, is two weeks old now. Lots easier to manage than a human infant! (I said that about a kitten we got once, too. The self-sufficiency of the creature was amazing.)
However, a newborn book still needs some attention. Here I am showing off my babies at the sale of the Friends of Woodstock School  annual reunion in Baltimore.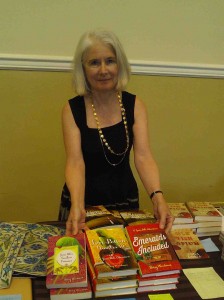 And giving a few up for adoption: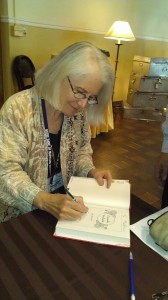 You are allowed to talk about your books; in fact, you're invited to do just that. Here are some good folk settling down at the Bachelder Library in East Andover, NH, before a reading I did last Friday. Thanks so much to Gail Fitzpatrick and Susan Chase for organizing this lovely event.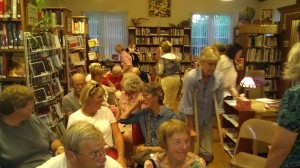 Also thanks to Anna Miner, the owner of Morgan Hill Bookstore in New London, NH for bringing the books. Anna's sparkling presence adds fun to any gathering!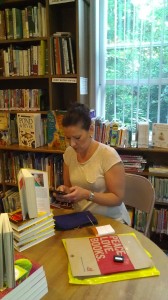 Maybe some of you have "newborns" of one kind or another. I hope they're giving you pleasure, too.
Next event at which I'll be talking about Emeralds Included is on Thursday, July 24, 7pm at Gibson's Bookstore in Concord, NH. This is a fantastic independent bookstore that has been serving Concord since 1898. Come along!