June 5, 2014 | 3 Comments | Betsy Woodman
June 6 will be the 70th anniversary of D-Day, the beginning of the invasion of Normandy. My dad was a young naval lieutenant in that historic battle, serving on a Landing Craft Infantry (LCI) that escorted wave after wave of troops from the ocean to the shore.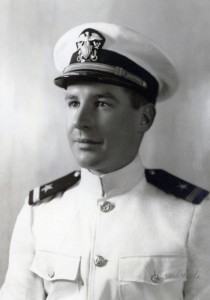 Everett Woodman in naval uniform
He was very proud to have participated, but the experience scarred him more than he even realized. In 2004, at the age of eight-eight, he was having flashbacks of scenes he had not remembered for sixty years. He would grow suddenly pale and start shaking at the memory of a tank exploding on the beach in front of him, or of a man's head being shot off his body and flying up into the air.
He had a box of little black and white photographs of the invasion and its aftermath. For years, I didn't find those pictures very interesting, but I do now. He devoted many months to organizing his papers and photographs for the Colby-Sawyer College archives, and the amount of time he spent down in the college library basement became something of a family joke.
However, when I look at the account that he contributed to the Andover (NH) Beacon and the captions he wrote for those little cracked, curling pictures, I see a man, decades later, struggling to make sense of a cataclysmic event. The newspaper story is downloadable here: Everett Woodman Memories of D-Day
Some of the pictures are bleak, others cheerful; none were taken during the fighting. The faded grays of the photos make the weather seem uniformly cold and gray, which it wasn't. They're all silent, and can't evoke the terrifying din that accompanied the landing of the troops.
Here's a selection: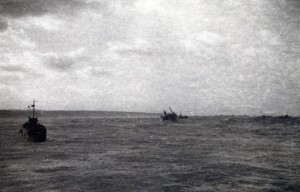 The storm that delayed the invasion by a day and caused a nerve-wracking return to England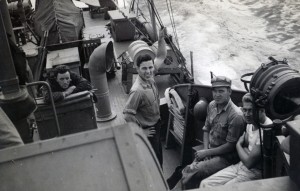 The young men who couldn't imagine what they were getting into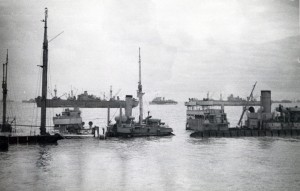 The ships deliberately sunk in order to form a breakwater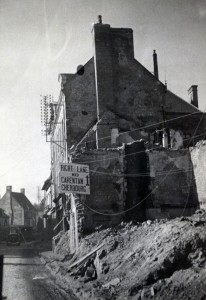 The devastation caused by bombing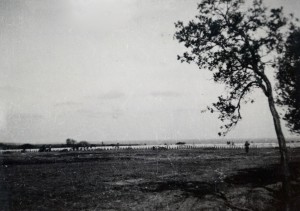 The fresh graves, now in a manicured green cemetery, then in a rough, desolate stretch of land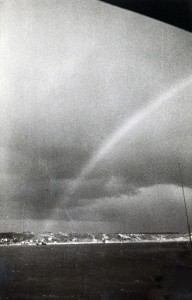 The rainbow he took to be a good omen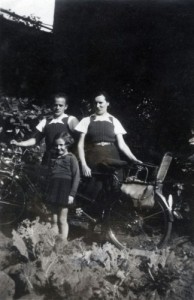 The local couple and their daughter who gave him a warm welcome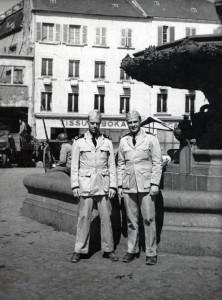 The buddies who remained friends for life
Grateful thanks to Colby-Sawyer for the use of these pictures. You can see more by visiting the Colby-Sawyer College archive and entering Normandy in the search box.
Last year, I wrote up the story of his trip to Normandy for the 60th anniversary ceremonies.